10 Quality Cannabis Vape Pens For Chronic Pain
The risks of prescription painkillers are becoming increasingly known. Patients all over America are looking for CBD vape oil additive alternatives for chronic pain that don't leave them riddled with side effects. 
It's one of the most common ailments in the United States, and millions of people worldwide are affected by chronic pain, but it's now apparent that opiate-based meds are not the answer. In 2016, more than 40,000 Americans died from opioid overdoses.
Such opioid painkillers are highly addictive and life-threatening, with the strongest painkillers easy to overdose on. Cannabis can help people with chronic pain and maybe even those addicted to opioids. The herb is a safer alternative to drugs like Oxycontin and Tramadol, that's for sure.
There are two cannabinoids in marijuana that play a huge role in making the plant the medicinal powerhouse: CBD and THC. The former is non-psychoactive and loaded with medicinal and general health benefits. The latter is also a medicinal compound, although its psychoactive effects are off-putting for some.
Hence, many products we see nowadays are THC-free. Marijuana can help with several physical complaints, including swelling, muscle soreness, tension, and inflammation. Cannabinoids play an essential role in the endocannabinoid system, which controls mental and physical functions, including pain perception.
Chronic pain sufferers may be asking themselves whether water-soluble CBD oil is more effective than THC or if Indica strains will deliver more Relief than Sativa strains? Ultimately, every person is unique and will be affected by cannabis differently. See here to read more about it: https://cbdvapejuice.net
Both high-CBD and high-THC strains can be effective pain relievers. The body high administered by high-CBD, Indica-dominant strains has a soothing effect, while high-THC strains do a great job distracting the user from the pain they may be feeling. According to Herald Net, this is especially the case for the cannabis derivative called delta 8 THC – here is the top choice for delta 8 vape cartridges.
Some strains have better reputations than others, but cannabis companies are doing their utmost to ensure those with chronic pain get the perfect cannabis formula by manufacturing specially-formulated vape pens. Here are 10 of the most popular vaporizers for tackling chronic pain.
Care By Design: 1:1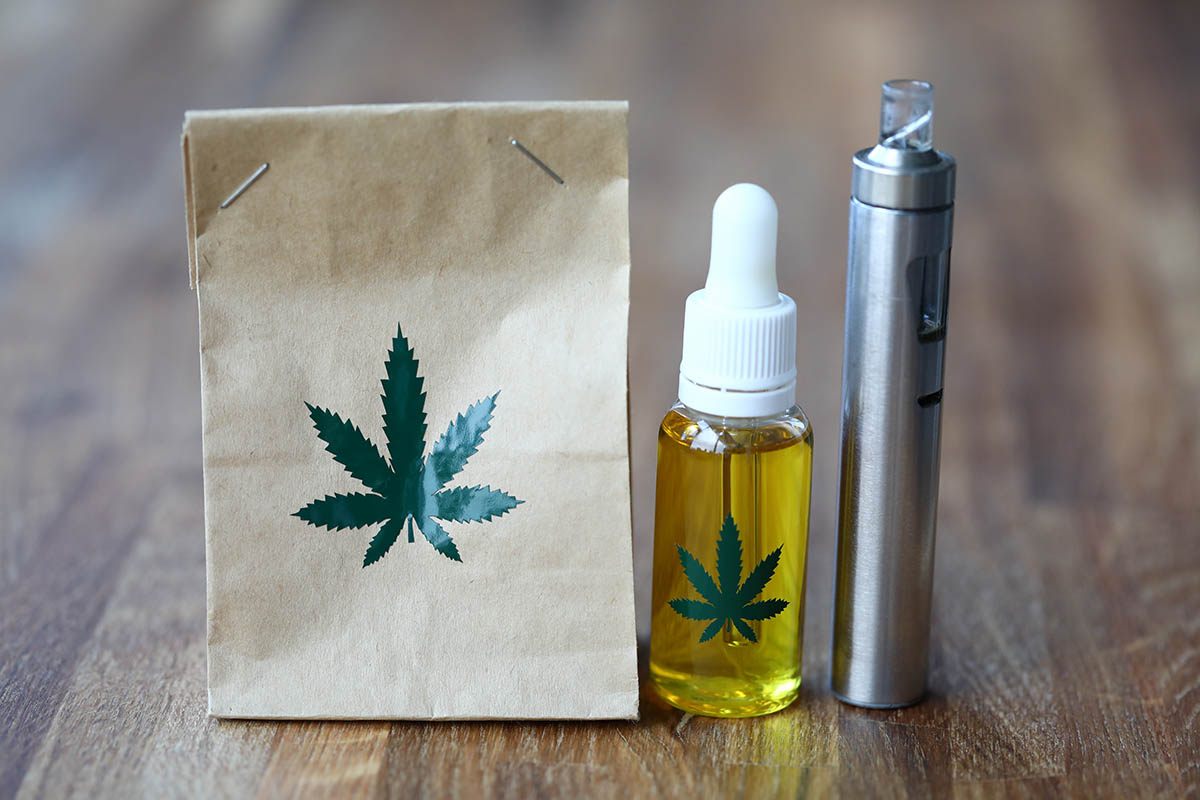 The clue is in the name: Care By Design – CBD. They have an extensive range of CBD vape additive products with a few different CBD to THC ratios, although, for pain relief, the one-to-one pens are the most effective. The cannabis used by Care By Design is grown in Sonoma County, California, a part of the world-renowned for cultivating world-class organic marijuana.
Rēl: Goliath Relax
"Relax" is a potent Indica-dominant pen from Rēl's Goliath that administers maximum pain relief. The company acknowledges that medical users need that little bit more, so pack 2 grams of oil for patients and 1.25 grams for recreational users. Relax is also a good stress reliever and sleep promoter.
The Legion of Bloom: Relief  TerraPen
The Legion of Bloom has developed a range of TerraPens, all of which have a one-to-one ratio of CBD to THC, often seen as the gold standard for a medicinal strain. Relieve pain is targeted at chronic pain patients and boasts a "therapeutic terpene profile." You can be confident of getting high-quality cannabis with the Legion of Bloom, which sources its cannabis from organic farms that grow plants free of chemicals and pesticides.
Dosist: Relief
Dosist used to be known as hmbldt – the name change certainly hasn't led to a change in quality, their pens are as good as ever. Dosist claims to offer users an "experience" with their pens, and Relief is the way to go if you're looking for a pain-free experience.
With a ratio of 2:1 THC to CBD, Relief produces a notable psychoactive high, while keeping the medical benefits of the CBD.
Wildflower:  Aches
Wildflower manufactures all sorts of vape pens, but their CBD range is probably of most interest to chronic pain patients. "Aches" is a pen designed for fibromyalgia and chronic pain patients – the CBD is combined with mint, rosemary, and essential oils to produce an enhanced analgesic effect.
This pen contains no THC and is, therefore, suitable for daytime use and workplace medicating.
Seven Brand: Girl Scout Cookies, Blue Dream, and Tahoe OG
The Girl Scout Cookies pen is perhaps Seven Brand's best product for pain relief, but they have a comprehensive range to cater to all kinds of conditions. Blue Dream, a Sativa-dominant hybrid, is also effective for pain management, and if you're having trouble sleeping, maybe a few draws on Tahoe OG are in order. This triumvirate of vape pens from Seven Brand is all excellent and worth trialing.
Happy Sticks: ACDC and Cannatonic
These vape pen cartridges are sourced from the Mecca of marijuana: California's Emerald Triangle. Happy Sticks use Cannatonic and ACDC for their wholesale CBD flower, which is awesome for pain relief.
The ACDC pen has an eye-popping 20:1 CBD to THC ratio – at such levels, the THC might as well be non-psychoactive. The Cannatonic pen has a slightly more balanced mix of roughly 3:1 CBD to THC.
CBD levels sometimes reach 17 percent with this strain, while THC concentrations hover at around 6 percent. This profile makes for a mellow high, that's relaxing without inducing too much drowsiness.
Eureka: Indica
Ramp up the THC with Eureka, a pen that consists of 94 percent of the famous psychoactive chemical. Eureka makes a few pens from Indica, Sativa, and hybrid strains. Indicas are your best bet for pain relief – Northern Lights is a terrific starter pen.
Brass Knuckles: Tahoe OG, Blueberry and Gelato
If your best experience is pain relief from THC strains, you'll love any of these vape pens from Brass Knuckles. The company makes cartridges from many strains for many ailments, but if you're looking to treat pain, indicas such as Tahoe OG and Blueberry – and a hybrid like Gelato – will suit you best.
Tahoe OG gives a pungent, heavy, citrusy kick that lasts for several hours. Gelato is another tasty pen that brings fruity flavors to the fore. Blueberry has a stunning 90 percent THC concentration, which can deal with even the most severe pain.
Ionic: Pure
Go back to basics with Pure from Ionic. The first pen the band ever produced, Pure, is a single-use pen that's one of the most potent on our list. This is because Ionic has triple refined cannabis oil in this pen. If THC is your favorite tonic for pain, then be sure to give Pure a runout. Have you used vape pens for pain relief or to treat another condition? How did you find the experience? Let us know by leaving a comment!