Your Buying Guide to the Best Appliances in the Kitchen
You know what they say about kitchens: it is the heart of the home. So it's only fair for you to want the best appliances possible for this space. Today, we are lucky to have so many options on the market: from energy-saving appliances to smart technologies, we are practically spoiled for choice. 
But all those options can make shopping for appliances a challenging experience. How do we make sure that we put our money into the tools and equipment that most suit our unique needs and preferences? To help you decide, here is a quick buying guide for brand-new kitchen owners who need a little direction.
4 Factors to Consider When Choosing Appliances
: Function
Are you planning a kitchen for yourself or for your entire family? Kitchens should be designed to adjust to the homeowner's lifestyle. It's not just about how you plan on using it now, but how you can customize it to accommodate future needs. If you are looking for ready-to-install kitchens, sites like Metropolitan can help you with premier cabinets and countertops by crafting your needs.
If you hope to start a family, you could find appliances that align with the rest of the layout to minimize risks for small children. If you are an entertainer, specialty appliances like ice makers or wine cabinets are a must-have. 
Budget
While you definitely need to make some big investments in kitchen appliances, avoid going overboard on your spending. Be realistic about the size and scope of your project. If you have to make a choice between function and aesthetic, you need to prioritize the former over the latter. It will be difficult to take back your decision in the future in terms of time, money, and effort.
Layout
What made you decide to start looking for new kitchen appliances? Are you moving into a new home or remodeling your current kitchen? The layout will play a big role in the range of appliances you can consider. Think of how you can maximize the space so that all the appliances you need will fit while giving enough room for the people in your house to move around freely.
Kitchen safety is also an important factor in layout. If you have enough funds, you can look into appliances that align or stand flush with countertops and corners so that they are not a hazard to children or the elderly. The knives and heavy utensils should be stowed away in sturdy locations that are inaccessible to young ones and pets. And of course, electrical appliances need to be placed some distance away from water sources. 
Design
The last thing that you need to think of for your kitchen is design. While it may seem like a purely aesthetic consideration, a lot of function is also incorporated in modern appliance design. For example, you might need larger temperature and time displays if you have poor eyesight. Or you may need certain knobs and buttons for enhanced tactile accessibility. These are features that help enhance the ergonomics of your kitchen area.
The Top 3 Appliances Your Kitchen Needs:
The Cooking Area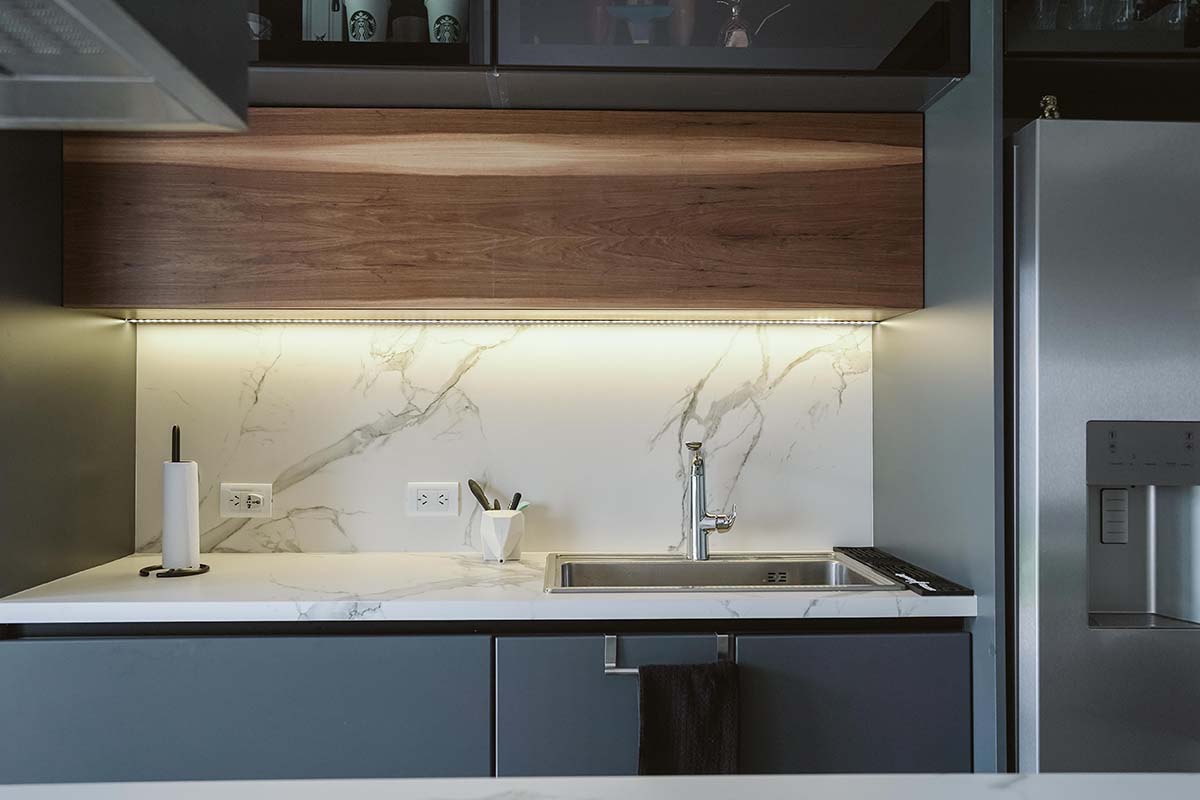 What kind of equipment will you need to cook your food? Do you want an oven range, which has a cooktop and an oven, or would you prefer having two separate appliances instead? Oven ranges are generally more economical and are a good choice for people who need a burner and an oven to finish their dishes. They also take up less space in your kitchen.
Conversely, you could be the type of cook who works with other cooks in the household. That would mean that you need plenty of space and separate zones for these two activities. Ultimately, your kitchen layout will define your response.
The fuel source is also an important consideration. You can go for electric ranges, gas ranges, or dual configurations. The latter option is popular because you get the best of both worlds: even electric heat in the oven, and easy-to-control gas burners on the cooktop
Dishwashers
Finally, the last important appliance you need to consider for your kitchen is the dishwasher. To make it easier to decide, narrow down the search according to these two factors: utility consumption and cleaning features.
Some dishwashers may need plenty of electricity and water to operate. If you are an eco-conscious consumer, look for models that are Energy-Star qualified. This means that they have been certified in energy efficiency and reduced environmental impact.
The standard size for dishwashers is 24-inch wide, with 18-inch options for very small spaces.
Refrigeration
When it comes to choosing what refrigerator to buy, consider how it would look after it's installed in your kitchen. Are you okay with freestanding refrigerators, which offer a good view from a variety of angles and often have a large capacity? The downside to freestanding types is that they won't stand flush with kitchen countertops. If this is an issue to you, you can go for built-in units or fully integrated refrigerators. Your only concern with installation type would be cost and layout.
After thinking about installation, you need to decide on configuration next. There are traditional top-freezers, french doors, and side by side models. For larger kitchens, all-freezer and all-refrigerator appliances are also available.