You Can Listen to This Article Here
All-in-one Graphic Tool FotoJet Make Edit Photo and Graphic Design Exciting and Easy
Do you have trips with your families and friends sometimes? Do you shoot a lot of photos when you travel? Are you able to take photos all in a perfect way?
Yes, I know modern people are always traveling with friends and families when they are on all kinds of holidays and take photos is something that cannot miss for it can help us to remember the beautiful and important moment.
But not all the photos taken by us can be perfect, so find a way to help us make up for these shortages is necessary.
Now FotoJet – online photo editor is coming, it can help you look professional ever you are not an artist. FotoJet is an online tool for photo editing, graphics designing and photo collage making.
It is very easy to use FotoJet, there is no need to have any technical knowledge about how to use it, and you can handle it well within a few minutes, for what you need to do just a few simple steps. They are:
Choose the premade template you like,
Upload your photos,
All text and clipart and some other elements,
Make some adjustments.
All of them can be finished via simple click and drag, so you have no need to wrong about that you do not hear FotoJet an online tool for photo editing before. Just have a try, you will love it!
FotoJet an online tool for photo editing
You can change the size, angle, exposure, and color of your photos by the editor. The basic options and advanced options can let you turn your imperfect photos into wonderful and amazing artworks.
What's more, you can add all kinds of effects, overlays, and frames to modify your photos.
The effects, overlays, and frames provide you plenty of choices you can have a quick preview before you make a decision with FotoJet an online tool for photo editing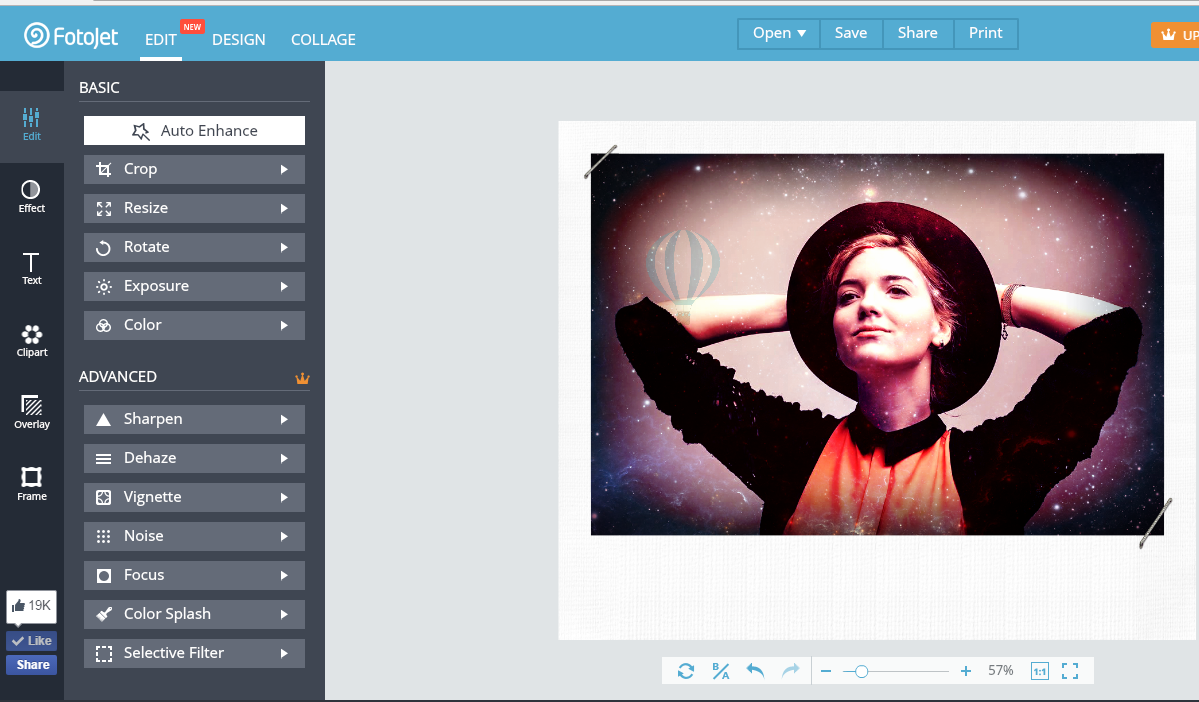 Graphic Designer
Under design mode, you can make Facebook Cover, YouTube Channel Art Banner, Poster, Flyer and so on.
You can save or share your creations immediately after you made some very slight adjustments because all the premade templates are beautiful pictures, suitable text, clipart, and other elements.
If you just want to make a quick one, just choose the template you like and save to use. Also, if you want to use your own image and add your own elements just upload your pictures and search elements to use.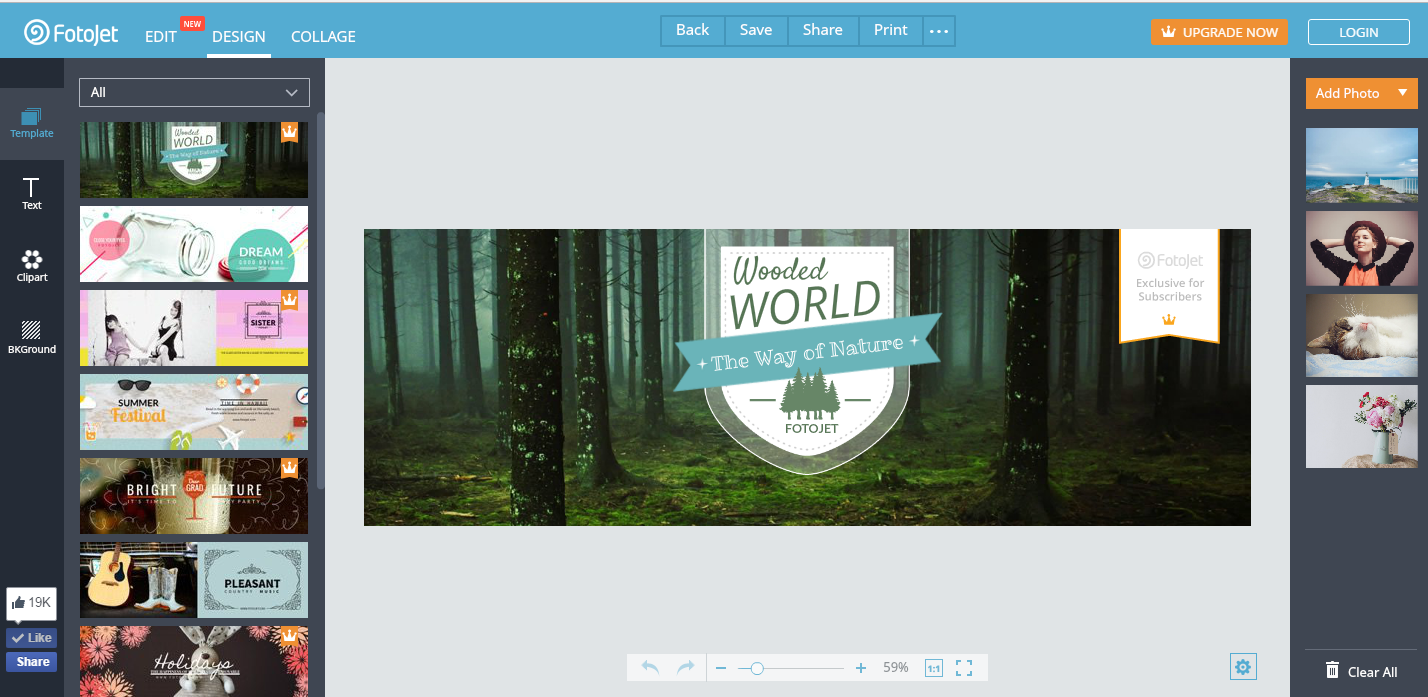 Collage Maker
Both classic collage and creative collage you can make with FotoJet. You can definitely finish one by three-step: choose a template, upload photos and add text, clipart, change the background if you need, and then save, print or share your collage. You can also make Misc, such as fun photo, magazine.
What's more, you are allowed to create many kinds of photo cards for a different holiday, like Valentine's Day, Father's Day, mother's Day, Thanksgiving Day and so on. You can be here to customize your own unique cards to send to your friends and relations.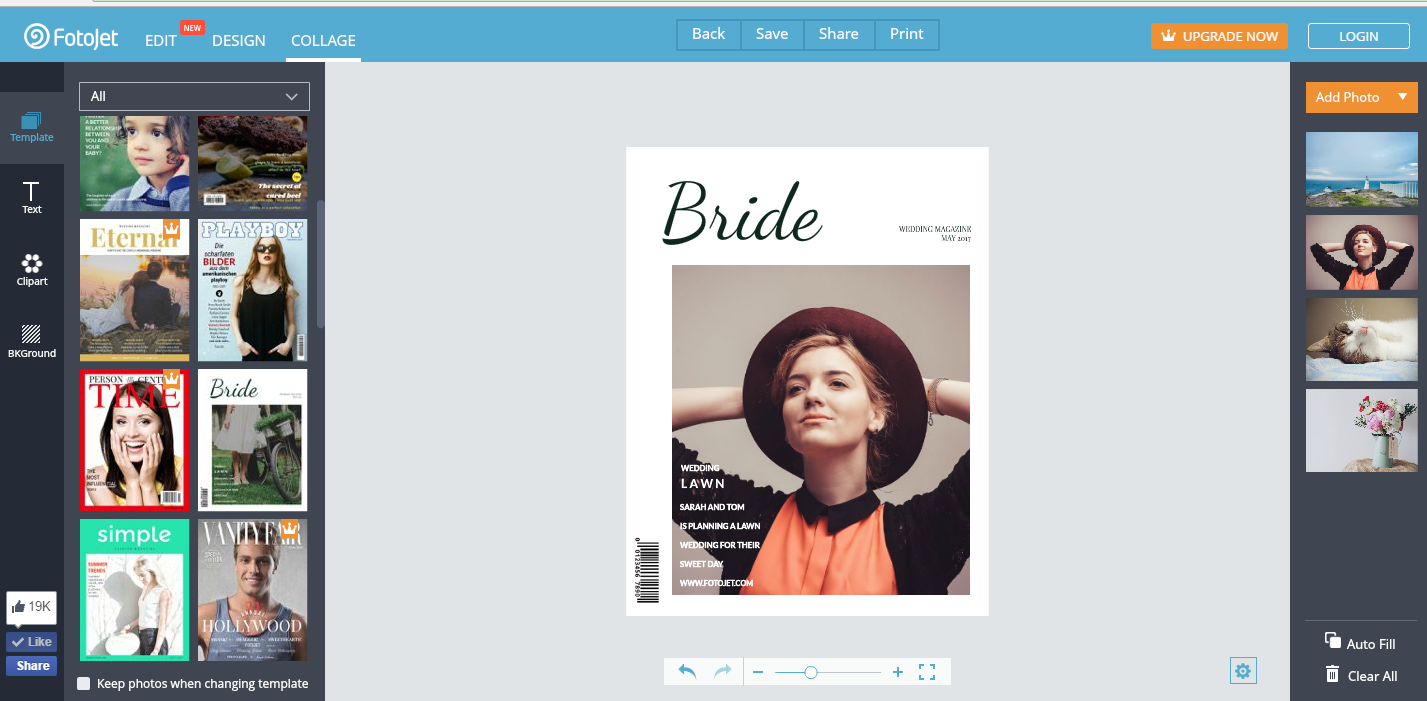 FotoJet can help you make text and clipart into watermark by adjusting their opacity, also you can add outline and glow to your text to make it more suitable to your program.
If you are desired to create your own artwork, just come and try, FotoJet an online tool for photo editing won't make you disappointed. So do not hesitate and get started now.