Men's Summer Outfits for Travel
No matter where you're traveling this summer, you'll need a wardrobe that complements your adventures. In this article, we're discussing some fashion tips and five men's summer outfits to keep fresh while you're traveling.
Are you looking for your new look just in time for summer? Do you want to find trends hotter than the summer heat? Shopping for the perfect combination of clothing to mix and match men's summer outfits doesn't have to be a chore, and it doesn't have to be confusing. Here is a list of summer wear for guys to make it simple.
Men's Summer Outfits for Travel
Summer is the perfect time to take vacations and travel the world.  You'll need new Summer wear to amp up your travel wardrobe.
Guys Summer Outfits: The New Hawaiian
Would it be summer if you didn't add a Hawaiian shirt to your travel packing list? Hawaiian shirts don't have to be the way we all think of them. Updating the look to be more minimalistic and slim-fitting can be a great way to be playful and fashionable at the same time. Adding some white pants, something that is making a bit of a scene, will help make this a very minimal look and help balance out the pop of color coming from your Hawaiian shirt.
T-Shirts for Summer
Aviation T-shirts are classic look to make the right summer outfits for the guys. They're lightweight in the heat, easy to mix and match, and who doesn't like them? Pairing a plain t-shirt for men with patterned shorts could spice up the look, or you could wear a graphic tee with jeans or cargo shorts.
Khaki or Bermuda Shorts
For some, jeans and pants are too heavy for hot summer weather. Try wearing khaki or Bermuda shorts instead. You can find them in a variety of colors that will be easy for mixing and matching all season long. Shop for a pair to discover more about their versatility. Pair them with graphic tees, plain t-shirts, or button-downs for the right summer outfit.
Summer Shoes for Travel
Slip-on sneakers are perfect for traveling through airports since they involve little effort in removing them for security checks. Leather sandals are perfect for your everyday summer look, and they pair well with just about anything you wear.
Be sure and get sandals with sole support if you plan to do a lot of sights seeing or walking around. This pair well with any of the above combinations, making them the perfect go-to shoe style for summer traveling, or even staying home.
Summer Accessories for Men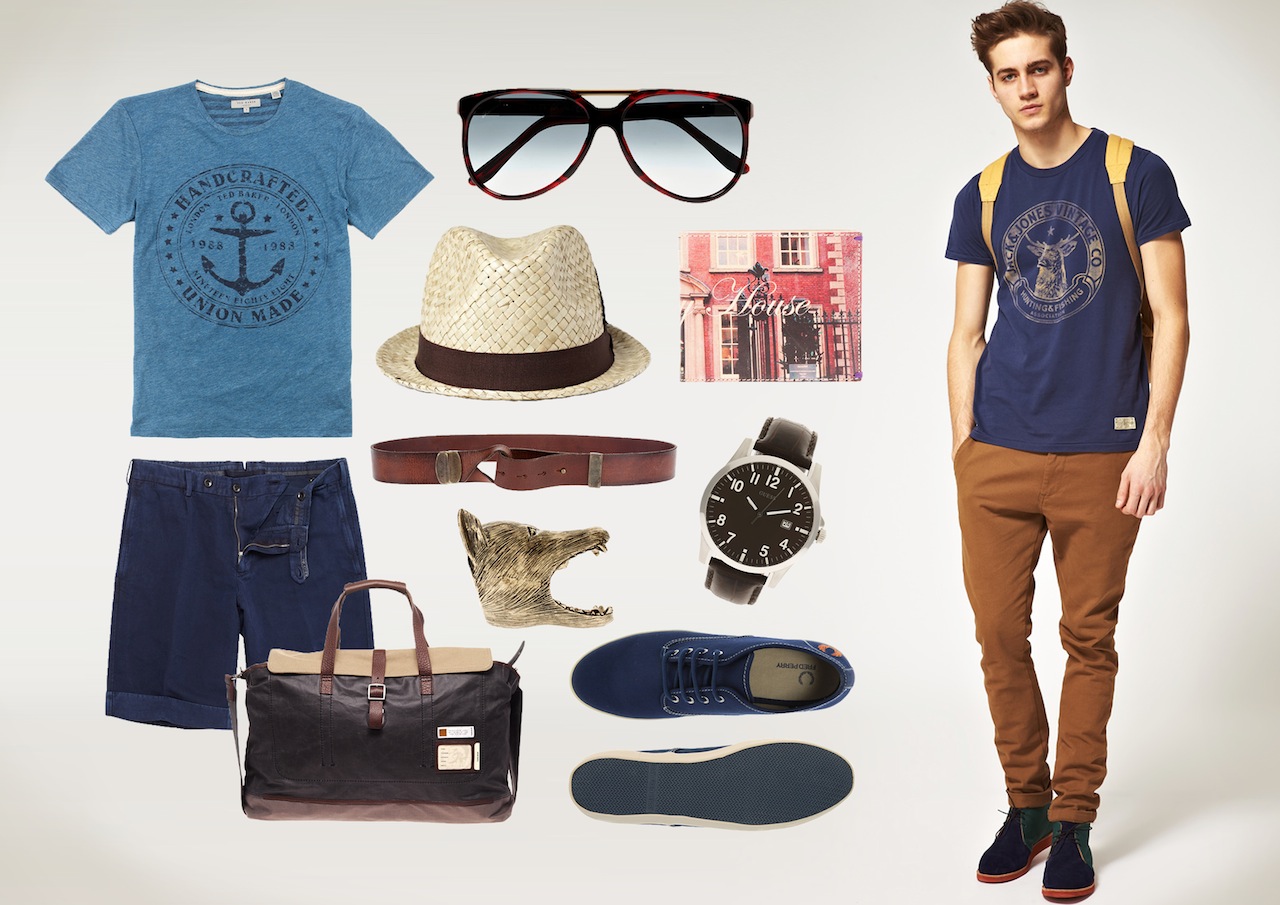 You can never go wrong with a great pair of sunglasses. When choosing sunglasses, it's best to pick the best frame for your face. Hats will never go out of style, mostly because they're also useful for keeping the sun out of your eyes during the sunniest part of the day.
Ball caps are still in, as well as bucket hats. Sometimes, all it takes is the perfect belt to pull an entire outfit together. Plain leather belts never go out of style and are a must-have for any wardrobe.
Travel Tips
Now that you've found the right men's summer outfits for you, you can also read about staying cool during the hottest part of the year. You can also check out our travel tips and hacks that will help you navigate your vacation without stress.  Or take a look at many tips, tricks, and interesting facts from around the world.