The 2019 Pantone Color of the Year is the Color of Optimism and Self-expression we all Need
Carlstadt, New Jersey – December 6, 2018 – Pantone Color Institute, the developer of professional color standards and digital solutions for the design industry named the Color of the Year 2019. A new and exciting change that is about to influence and make our life brighter. Please, welcome Pantone color of the year – PANTONE 16-1546 Living Coral. A beautiful enlivening and life-affirming, shade of orange with golden tones color.
I am already falling in love with this color. Simply, its because it reminds me of the beauty of the sea and adventures. Fantastic associations come into my mind when when I look at it.
Just as the coral reef is a source of food and is a shelter for marine life, the bright but soft PANTONE 16-1546 Living Coral takes us into its warm and caring embrace, giving us comfort and helping to keep afloat in our ever-changing world.

We live in the world overcrowded with digital technologies and social networks, increasingly invading our daily lives. We embraced the new world, and we are using all the opportunities it offers for authentic, immersive experiences that allow us to connect with others and express ourselves.
Here comes a sociable and energetic, attractive nature of color PANTONE 16-1546 Live Coral that encourages our light-hearted activity. Symbolizing our innate need for the optimism and the search for joy. Pantone 16-1546 Living Coral embodies our desire for playful self-expression.
Reflecting the intricate connection of our modern life, Pantone Live Coral is a caring color that can be found in our natural environment and which, at the same time, has a lively presence on social media and our daily activities. I think this color is exactly what we all need.
This new and exiting Living Coral Color also radiates such welcome, familiar and energetic characteristics of flowers originating from wildlife. In its bright, underwater image, this life-giving and sparkling color captivates the eyes and mind. Living in the center of our vibrant and rich ecosystem, Pantone Living Coral evokes associations with coral reefs that provide shelter for a whole kaleidoscope of various colors.
Let discover where to expect seeing it:
Social Media
Organic hue, Live Coral leaves the strongest impression in digital environments, evoking the same inspirational feelings as in the natural environment. The brightness and cheerfulness of Live Coral Color easily attract an attention in social media and digital design.
Fashion and Accessories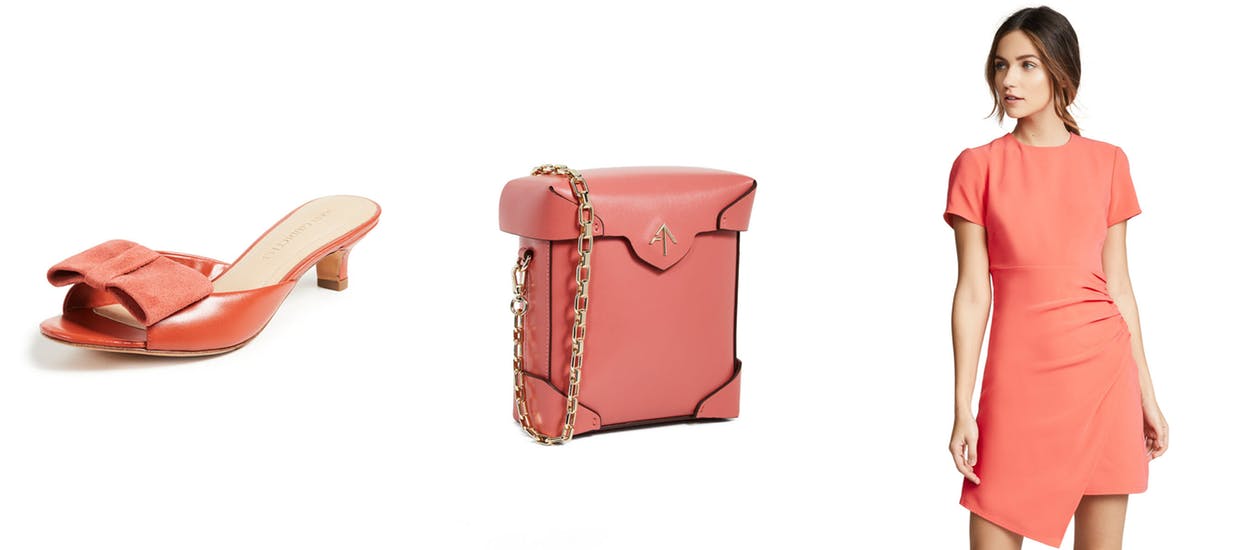 Lively Coral inspires experimentation and playful self-expression in both men's and women's street fashion, as well as we can see it on the catwalks.
The warm shade offers comfort and positivity in simple color stories, but it becomes more refined and sparkling in patterns, textures and even monochrome variants. An attractive accent shade, Pantone Live Coral creates a striking contrast with any color spectrum.
Cosmetics and Makeup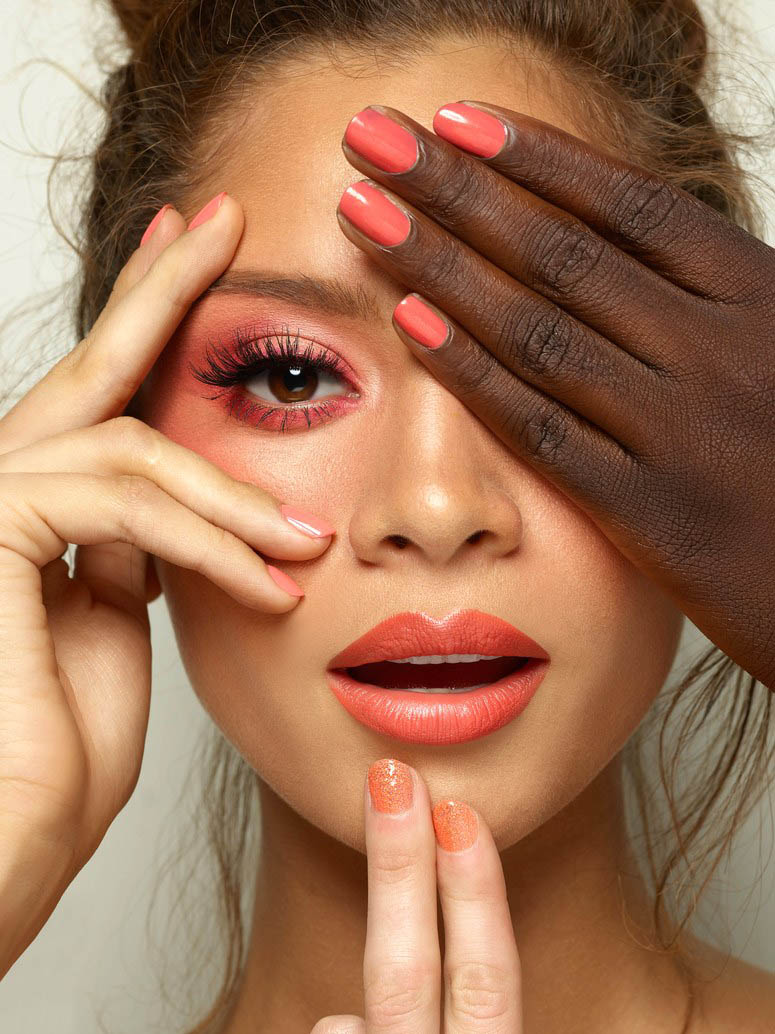 A life-affirming shade suitable for any skin tone, Pantone Live Coral brings the beauty of natural color into the blush, eyeshadow, and lipstick. Free, playful makeup ideas also grow stronger with Live Coral, which, being the center of a kaleidoscope of colors, encourages experiments with palettes, textures, shimmers and glitters.
By the way, Pantone's official beauty partner Butter London Launches Living Coral Makeup Collection for Pantone's 2019 Color of the Year. A collection featuring a cream blush, a lip gloss, and nail polishes, and I think I need more details on that. So far it looks fantastic.
What do you think about the Pantone Live Coral inspired makeup idea?
Product Design
Live Coral organically fits any product for any gender and age. Textured materials and friendly colors such as the Pantone 16-1546 Live Coral appeal to our need for products with human and eye-pleasing characteristics.
Interior and Decor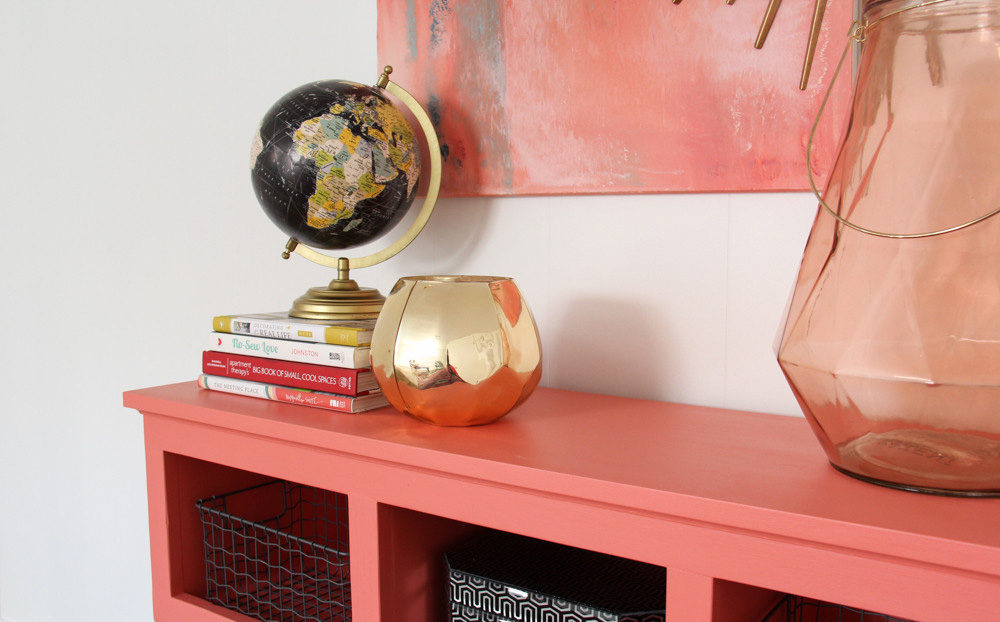 Used as a bold statement in home decor ideas, Live Coral contributes to capturing impressions, especially for pop-up-and-play installations and interactive spaces.
As a tactile and humane color, in fleecy carpets, cozy blankets, and lush upholstery, Living Coral Pantone creates a feeling of warmth, peace, and a care in the house. Thanks to its enthusiastic nature, Living Coral Pantone adds a powerful color effect to any room, whether in the form of decorative accessories, tabletops or on the wall.
Packaging design
Live Coral is perfect for packaging. Warm and friendly, this life-affirming shade invites the buyer to take the goods off the shelf.
Tribute Portfolio x Color of the Year Pantone
Among all the other joyful activities associated with the symbolism of Living Coral, is Traveling. Traveling allows us to meet new people and create new connections.

Celebrating Live Coral as the 20th Pantone Color of the Year, Pantone, in collaboration with Tribute Portfolio, a new collection of independent hotels with a unique character from Marriott International, opens the first Pop-up buffets that allow people to immerse themselves in this color in selected hotels around the world.
Together, Tribute Portfolio and Pantone will present the Pantone series of interactive buffets in creative and Indian communities around the world, starting with Art Basel Miami at the Royal Palm South Beach Miami Resort, and then next year will go to Alida hotels in Savannah, Georgia, and Slaak Rotterdam, in the Netherlands.
Adobe Stock x Color of the Year Pantone
For the second year in a row, Pantone collaborates with Adobe Stock, offering a curated collection "Color of the Year" for inspiration and help for the creative community. Live Coral is a natural, but dynamic and energetic tone that is ideal for all designers who need lively and energetic, yet relaxed, creative elements.
With over 125 million visual assets, Adobe Stock is a terrific resource for finding visual inspiration and creative development.
Formula Guide, The Limited Edition Pantone Color of the Year 2019 Living Coral
Within the celebration of the 20th anniversary of the first announcement of the Color of the Year Pantone, special collections of The Pantone Color of the Year 2019 Formula Guide for graphic designers, graphic designers and packaging and Fashion fans, Home + Interiors Color Guides for fashion and product designers will be available in limited numbers through authorized distributors worldwide

About the Color of the Year Pantone
The process of choosing the color of the year requires careful consideration and analysis of the trends. In order to make the right choice every year, Pantone Color Specialists from the Pantone Color Institute are combing the whole world in search of new color trends.
This could include the entertainment industry and the films being shot, touring art exhibitions and new artists, fashion, all areas of design, popular travel destinations, as well as new ways of living and changes in socio-economic conditions.
Trends can also be associated with new technologies, materials, textures, and effects that affect color, social networking platforms and even upcoming sporting events that attract the attention of the whole world. For 20 years, Pantone's Color of the Year influences design decisions and product purchases in various industries, including fashion, interiors, and industrial design, as well as product, graphic design, and packaging design. Previous Colors of the Year include:
PANTONE 18-3838 / Ultra Violet (2018)
• PANTONE 15-0343 / Greenery (2017)
• PANTONE 15-3919 / Serenity и PANTONE 13-1520 / Rose Quartz (2016)
• PANTONE 18-1438 / Marsala (2015)
• PANTONE 18-3224 /Radiant Orchid (2014)
• PANTONE 17-5641 / Emerald (2013)
• PANTONE 17-1463 /Tangerine Tango (2012)
• PANTONE 18-2120 / Honeysuckle (2011)
• PANTONE 15-5519 / Turquoise (2010)
• PANTONE 14-0848 / Mimosa (2009)
• PANTONE 18-3943 / Blue Iris (2008)
• PANTONE 19-1557 / Chili Pepper (2007)
• PANTONE 13-1106 / Sand Dollar (2006)
• PANTONE 15-5217 / Blue Turquoise (2005)
• PANTONE 17-1456 / Tigerlily (2004)
• PANTONE 14-4811 / Aqua Sky (2003)
• PANTONE 19-1664 /True Red (2002)
• PANTONE 17-2031 / Fuchsia Rose (2001)
• PANTONE 15-4020 / Cerulean (2000)