Beautiful and Easy Home Improvements Ideas on a Budget
In 2016, homeowners spent an average of $60,400 on home renovations. For many of us, this sum can only be stumped up in our dreams. Do you need a change but don't have a huge budget for a remodel? We've got 8 cheap and easy home improvement ideas that will turn your house from drab to fab! Let's get going into easy home improvements!
A Lick of Paint Goes a Long Way
If your home is still the same bland beige color it was when you moved in, then it's time to make your mark and pull out the paintbrushes. Do you want to paint every single wall? Or is painting one statement wall more viable? As painting your walls to a high standard isn't an easy task, you could alternatively paint doors or cabinets for a cheaper, yet just as effective, change.
However, a professional is undoubtedly the best person to help you ensure you don't make a mess, requiring you to spend more money in the long run. View here what a professional cabinet painter can do to help.
Add More Greenery
Plants boost your mood. Not only do they reduce stress and anxiety, but they can also help you sleep and improve your memory. Better yet, adding greenery to your home is a cheap way to get it to look modern and fresh. It's not difficult to come across plants either, try:
Asking for cuttings – know an avid gardener? Perfect!
Volunteer at a garden center.
Flea markets are a great way to source free or very cheap plants.
Find everything you need online – think Craigslist, Plantswap.net, and local Facebook gardening groups.
Buy seeds to grow and nurture plants yourself.
Remember, plants require care, especially those which you have "rescued". Make sure you spend some time online working out how best to look after your new potted pals.
Install Effective Vents to Prevent Mold

Mold is a plague in many homeowner's lives. It's important to make small home improvements to avoid mold altogether. For example, replacing an old vent and installing an upgraded model in your bathroom will reduce the risk of mold.
Although there may be cheap models available, this is the time to invest a little more money. As a result, you could be saving hundreds in years to come, not to mention saving your health with these easy home improvements.
Invest in New Furniture from Cheap Sources
Your mattress should be replaced approximately every seven years to keep you sleeping soundly. Meanwhile, your sofa will likely require replacing every seven to fifteen years, if you bought it new.
One of the best ways to make sure your home is looking its best is to regularly lookout for new furniture within your budget. The shabby couch you've had since you were a student could be replaced for something chicer like comfortable daybed and more adult if you…
Look out for sales at your favorite stores.
Check Craigslist and similar websites.
Visit Estate sales.
Finding high-quality furniture for a cheap price requires patience. However, it can hugely pay off in the long run.
Organize Your Cupboards to Keep Mess Out of Your Eyeline
A place for everything and everything in its place is a great rule to live by if you want to give your home a facelift. By spending a day organizing your cupboards, you'll find that mess magically moves from the floors, sideboards, and chairs and into the cupboards. Keeping a neat and tidy home has many benefits and is a home improvement idea worth investing a little money in. We have all been told that cleaning reduces stress. But, reducing the amount of cleaning you need to do may reduce your initial stress in the first place!
Invest in Artwork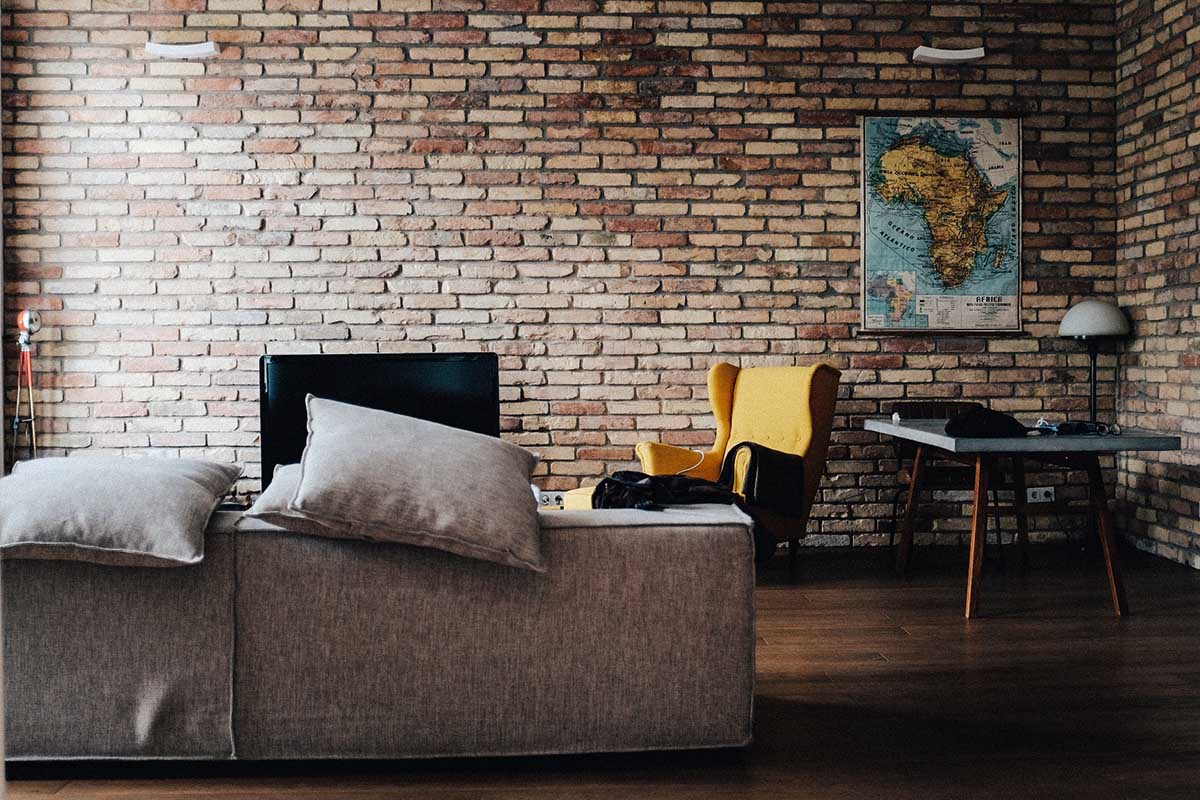 If you're settled in your home and are now looking to invest, a great way to do so could be to buy artwork. Not only will this give your home a beautiful boost, but it could also make you rich in the long run. This is because art has no relationship with the stock market. However, if this is simply not an option but you're feeling creative, buying a few paintbrushes, paint and a high-quality canvas is a great way to relieve stress. The result is a highly personal yet inexpensive painting for your home. Still not possible for you? Visit a flea market and rely on local artists to help adorn your home. They may not bring the same returns as a Monet, but these cheaper paintings are certainly a great way to change the ambiance of a room.
Replace Your Old Shower Liner
Nothing says shabby but not chic like an old shower liner. If yours is looking furry or a little dirty, it's time to invest in a new one. This change is a cheap and quick one to make, but it'll have your bathroom looking fresher than you could have imagined in no time. Check out these tips to further modernize your bathroom.
Add Mirrors to Empty Walls
If you don't have time for a lick of paint and you don't have money for expensive artwork, instead head to Ikea or another budget retailer for new mirrors. Putting up mirrors in your home can quickly open up space, make it brighter and give you plenty of chance to check your appearance before you leave for work. Better yet, you don't need to be paying hundreds of dollars for a fancy mirror. Instead, you can choose something very simple because all the mirrors do the same job!
Easy Home Improvements Shouldn't Break the Bank
After making all of these changes, you will find that your home is practically unrecognizable. Easy home improvements are enjoyable to make as they spruce up the appearance of your house without any of the financial burdens. Adding a smart trash can is also an easy home improvement idea. Looking for ways to modernize your home further? Check out this blog post for inspiration.