Best Natural Cleaning Products
These days, cleaning products seem to be loaded up with all sorts of toxic, synthetic chemicals.
If you've got sensitive skin, allergies, or want to steer clear of carcinogens, check out the ten best natural cleaning products on the market.
Finding products that let you clean up your space without polluting the world can be tough — so many products designed to clean leaving behind residues.
Worse, many cleaners contain harmful and dangerous chemicals that can harm pets and children.
Worse, many older companies don't care to release new products or clean up their brands.
This is a problem with a solution in the modern-day. Before internet marketing, smaller companies had a hard time finding niche markets.
Now with a global reach through shipping networks (a problem of its own), you can tap into these natural products.
We know you like to keep it green and keep it clean. So, check out this list of best natural cleaning products.
We give you the rundown on how they work and why they rise above the rest.
Choosing the Best Natural Cleaning Products
When we talk about the best products, we mean best. Each of these excels at completing the job you need it for a while, causing no harm to you or the environment.
We looked at a wide array of products to find the best organic cleaning products that are also the best non-toxic cleaning products.
Dive in and find something you will be proud to use in your home.
1. Better Life All-Purpose
Created by two dads looking to take better care of their homes and their children, the Better Life brand has had some great press in the past few years.
This all-purpose cleaner uses natural substances to produce an effective and powerful clean.
The cleanser is free of VOCs 9those nasty things in fragrances that bond with hydrocarbon chains and deplete ozone).
The cleaner also avoids using petroleum (though the bottle is still plastic).
Better Life removes different household messes without leaving behind film or residue.
The cleaner does good work on most sticky and scummy products but doesn't have a specific antibacterial rating, so watch for that.
The ingredients make it both animal and child-friendly, so you don't have to worry about working around those.
With all cleaning, remember to stay in well-ventilated areas.
2. J.R. Watkins All-Purpose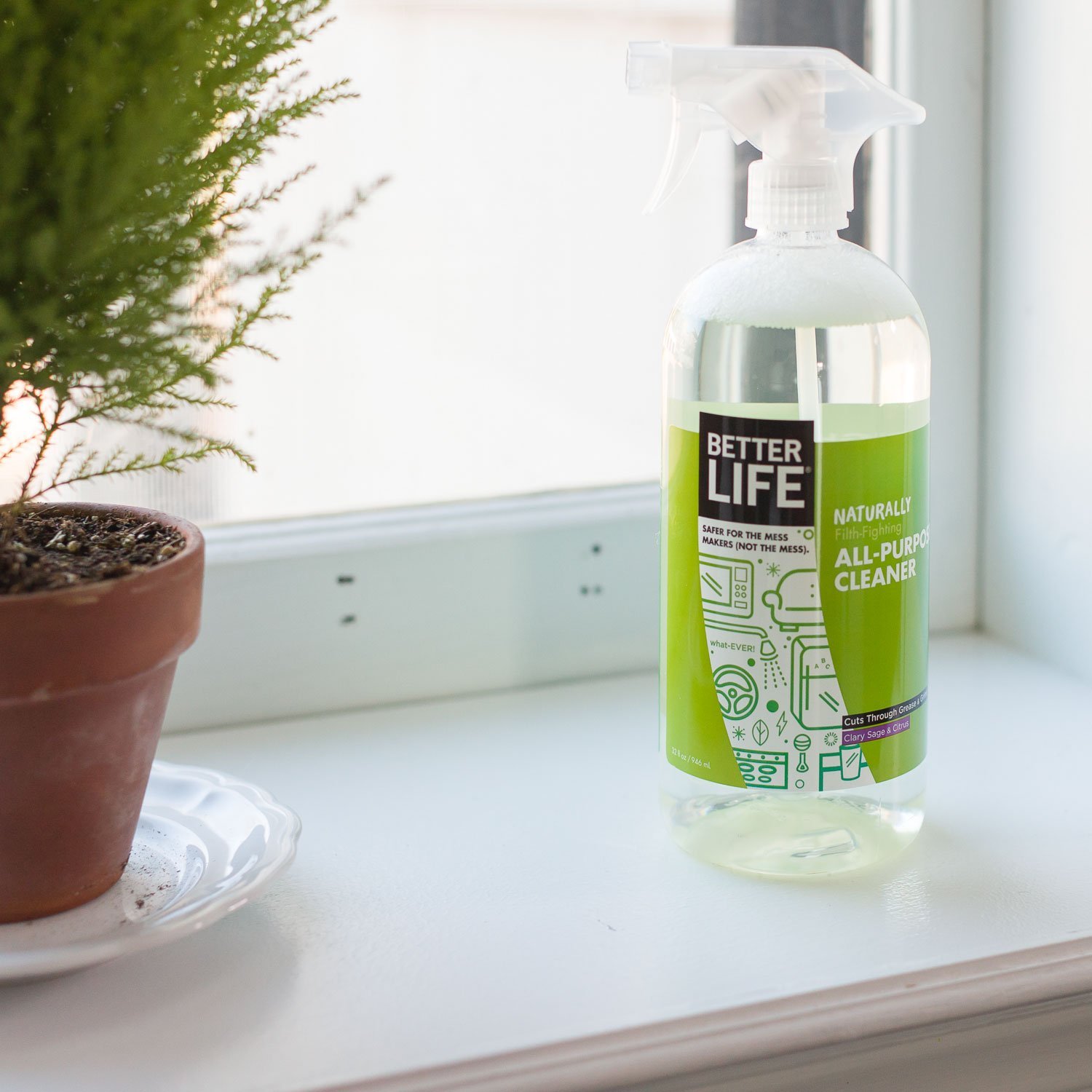 A strong competitor in the all-purpose world, J.R. Watkins offers many of the same advantages s other products.
The formula is free of dyes, bleach, and ammonia. No animal tests were done in the development of the product.
Despite the like of ammonia, or maybe go them for not using it, it still manages to create a streak-free shine.
The ingredients are all plant-based, so they are defacto biodegradable and non-toxic.
The fragrances come from natural oils and citric acid, which combines a fresh scent with cleaning power.
J.R. Watkins also produces a selection of food products. So you know they have spent more time working with plants than conceiving of chemical formulas.
3. Intelligent Nutrients Hand Sanitizer
Created by Horst Rechelbacher of Aveda fame, this hand sanitizer leaves a soft clean feeling after use. Most hand sanitizers tend to dry out skin or leave a greasy after effect.
Utilizing the best in natural, non-toxic ingredients, the product manages to be safe for repeated use. It also effectively kills germs.
The sanitizer sports a USDA organic certification label and a cruelty-free label. It comes in a refreshing set of essential oil-powered scents.
Your hands will feel better with the product than if you had used nothing at all.
4. Seventh Generation Disinfecting Cleaner
With all of the bonuses to talk about with this product, I can't help mention the scent. Lemongrass citrus made of essential oils and botanical extracts leaves your bathroom smelling like a spa.
The efficacy of the product is top-notch. It takes out the recommended 99.99 of germs from leading antibacterial products and also makes quick work of bathroom messes.
The foaming spray coats well and wipes dry without rinsing. I particularly hate leaving any kind of film in the bathroom areas.
I don't want to aid slipping or leave pockets for germs to stick and accumulate.
The chief botanical disinfectant property is Thymol. This wonderful extraction from Thyme Oil kills germs without acidic or ethanol-based ingredients.
This means you will have fewer issues with feeling the redness and dryness associated with heavy cleaning.
5. CitraSolv

At the top of the list of hard to clean substances are sticky residues. Remnants of glue or tape and even other cleansers can all create semi-solid deposits on surfaces.
Even though rigorously wiping these up by hand can make for some solid exercise, it isn't often worth it.
Many people rely on the noxious sludge of Goo Gone to fight these battles. CitraSolv has developed a stronger product with a combination of citrus extracts and botanicals.
Not only does this clear up sticky messes effectively, but it also does so without needing to use a second cleanser afterward.
Users have found it highly effective for use on epoxy and paint.
Those that run a garage or workshop with industrial messes that tend to stain and remain; this offers a safe multi-use alternative.
Given the ingredients, the smell of the product is a strong orange citrus. As always, use in a well-ventilated area to avoid overdoing it on the odor.
6. Puracy Natural Dish Soap
Dish soaps face some of the most difficult challenges in cleaning supplies.
They have to be safe enough for the dishes and not too hard on the hands. All the while, they need to remove a variety of difficult gunk.
Grease fighting is no simple matter. Particularly as many dish soaps are made with petroleum products to counteract the animal's fats that create grease.
Puracy fights this combination of problems well. Their natural dish soap uses hypoallergenic and sulfate-free products to keep things sanitized and safe.
The power of the product comes from its combination of natural plant ingredients. These have a base pH profile that eats through grease easily.
One of the advantages of using natural plant-based products is that they are great for the skin. This gives Puracy an edge in protecting hands and keeping dishes residue-free.
7. Grab Green 3-in-1 Laundry Detergent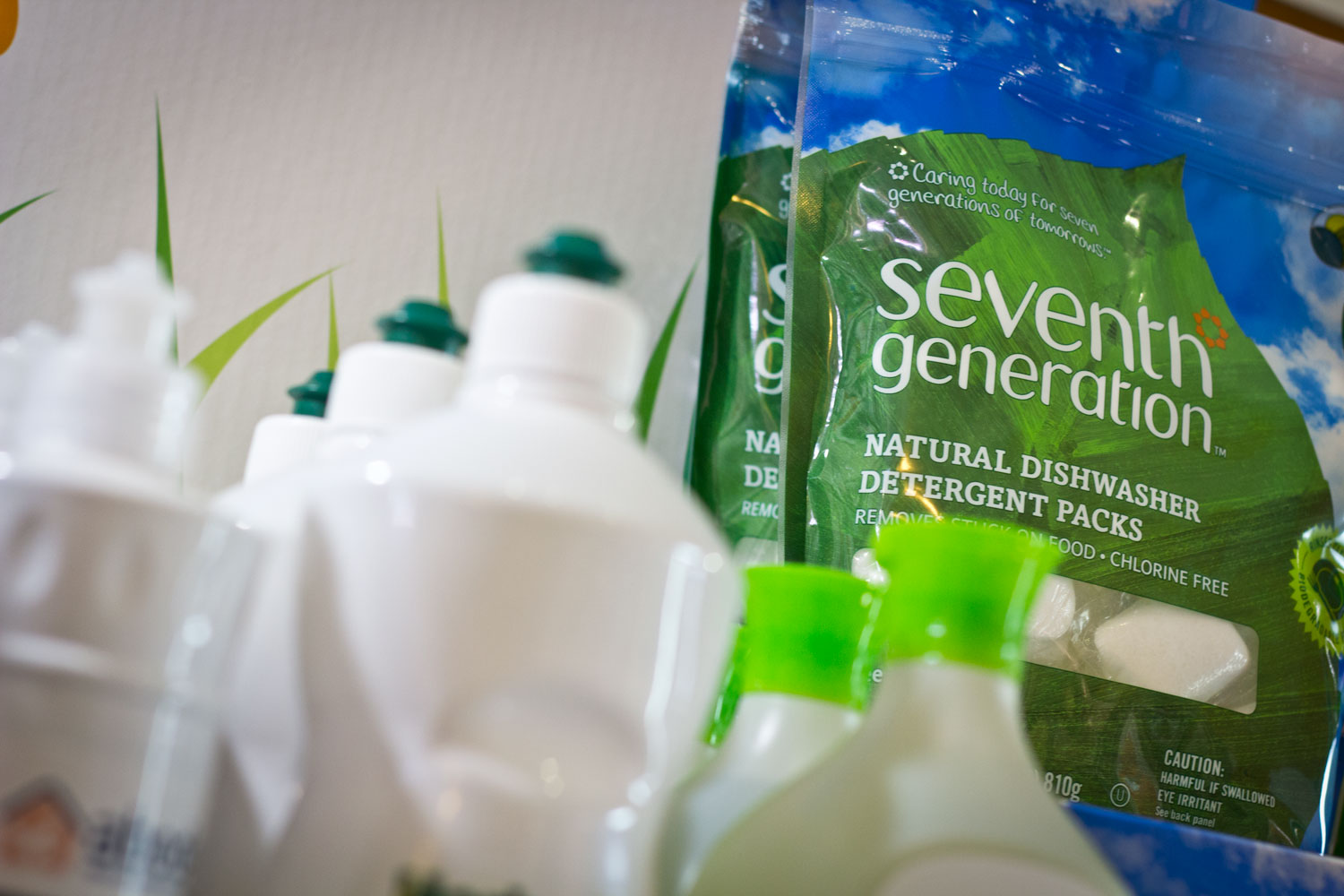 Another product that capitalizes on the power of lemongrass as a scent. The laundry pods combine this spa-fresh scent with effective ingredients to fight stains and not wear out clothing.
The product uses no chlorine or phosphates, so it is gentle on clothes and won't irritate allergy-prone skin.
Skin can react poorly to a variety of even natural cleansers because of damage to fibers. Grab Green avoids this by using gentle cleaners that won't disrupt the fibers.
If you are looking for more information about which chemical ingredients cause issues and how, read more here.
8. Better Life Stainless Steel Polish
A rare product from the Better Life duo addresses the cleaning of metal. Metal polishes have long been dominated by harsh acids and sulfates.
The largest complaint about metal polishes is the film left behind. Seconded only by the strange and pungent metallic scent.
Better Life gets around this by working with products that de-grease and shine without surfactants and the usual VOCs.
The products work to remove the causes of stains, such as messy fingers and noses. Most products essentially melt off a small layer of the metal to reveal a cleaner surface beneath.
If you have had a metal appliance such as a stainless steel fridge, you may have noticed that after a few years of cleaning, the metal starts to have a divet in it. That is a result of removing the material, not cleaning it.
9. Ecover Toilet-Bowl Cleaner
Ecover works really well, but some people are torn on the scent. The strong pine scent comes across as refreshing to some and overwhelming to others.
Some of this can be blamed on bathroom layouts. If you followed our guide on bathroom renovation, you know that trapping air and light around the toilet bowl leads to a problem.
There is, however, no debate about the efficacy of the clean. The ingredients decalcify and remove stains and mineral deposits.
They do this without being so hard that it tears off the finish in the bowl, leaving a surface that stains twice as fast.
10. Ecos Eco Breeze Fabric Freshener
This list isn't a countdown, but if it was, this would be the last entry either way. Eco Breeze delivers on the promise that products like Febreeze try so desperately to produce.
Instead of masking scents and covering up odors, Eco Breeze actually releases the odor particles.
It combines soothing scents like orange or their more popular lavender to release instead of a cover. Lavender and mint have been used for centuries along with cedar to stop odor-causing bacteria from growing.
This way, your clothes stay fresh by not developing the issues that create odor to start with.
You can also rely on the eco-friendly ingredients to be safe in the water and the air.
Feel the Vibe
Now you can feel safe keeping your home sparkling and know the environment isn't suffering as a result.
These best natural cleaning products aren't the only innovation making the world a better place.
We keep our eyes out for everything we can that improves and innovates.
You can read about more things to inspire your world and protect it at the same time.