Factors to Consider When Going for Pedicure and How to Get Rid of Corns
Well, pedicured feet are often an attraction, especially when the nails look so neatly done and beautiful. The satisfaction comes with an excellent foot scrubbing that does away with accumulated dead skin and probably dust.
This, however, does not do away with corns on feet, but thorough cleaning may reduce friction whenever someone is wearing shoes. It generally reduces the thickness of the corn and makes its removal easier. Nail technicians should not be allowed to use scalpels on the corns because that is strictly the work of a podiatrist.
When going for a pedicure, one wants the best and probably to be worked on by a skilled nail technician who will give a final affirmative result that is appealing and healthy therefore, the following can be put into consideration when going for pedicure both for frequent and beginners who need their feet pedicured.
Good quality pedicure is a great answer to your question: "How to Get Rid of Corns?"
Level of Professionalism and the Knowledge on How to Get Rid of Corns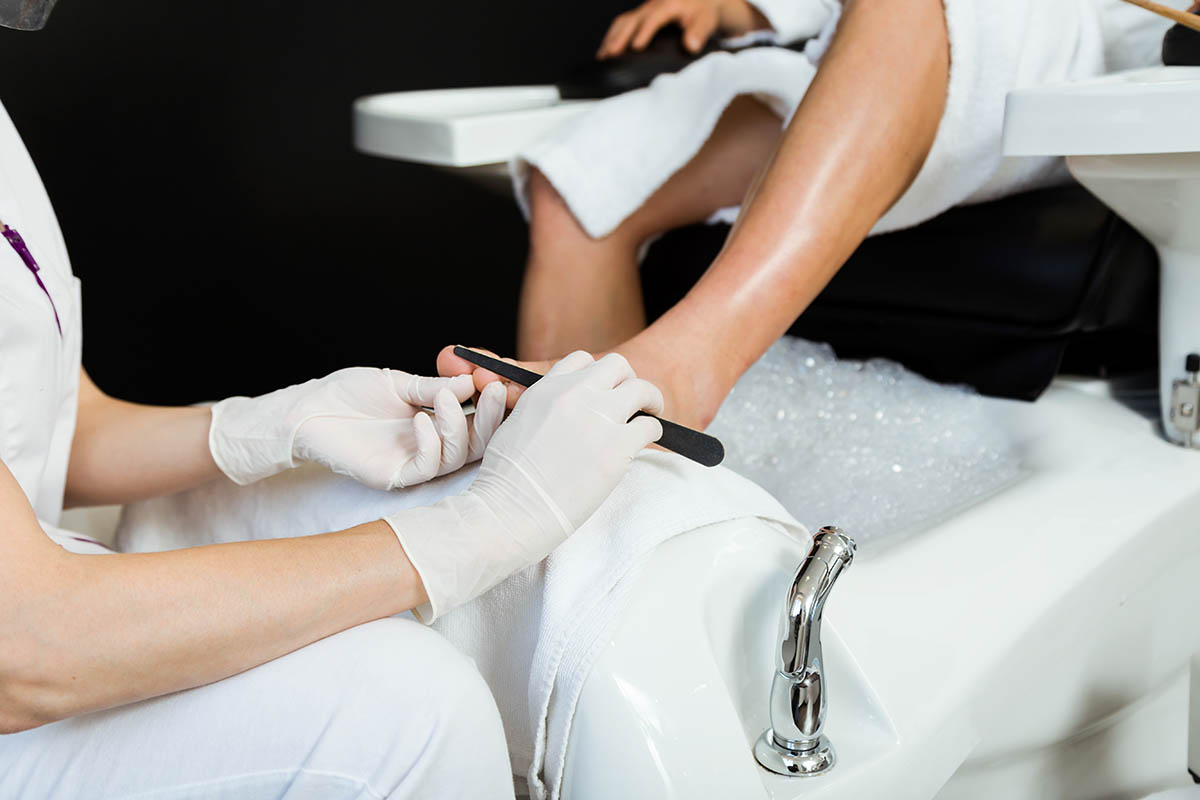 Professionalism is one sensitive and severe factor to consider when going for a pedicure. One needs to research the saloon or spar where the process is to take place.
This can be achieved when a client goes down to read reviews of the establishment if it is renowned and also if they have a website that outlines their services.
Seek testimonials from individuals about the place and also visit the land-based shop practically to evaluate before finally concluding that that is the right place for them to have their pedicure done.
This not only stands for how the nail technicians work in the nails but also how they treat their customers. No one wants to be attended to by an abusive technician. You may typically get great results from your evaluation, especially if you visit a nail salon franchise, as it usually has an established reputation in the industry.
The primary purpose of this is satisfaction at the end of the day and even much better if both the technician and the customer feel contented with their services to each other. Some of the other factors to be considered are;
Hygiene is another critical factor to consider when going for a pedicure. This helps to avoid going back home with just more than pretty feet. Getting to a salon with contaminated footbaths and tools that are not sanitized can be fatal. It may result in bacterial and fungal infections, athlete's foot, and an intense antibiotic-resistant staph infection. Therefore to avoid these extremes, one can do the following.
Consider the time difference between you and another client. Disinfection of instruments should take at least ten minutes after every client. This, therefore, means that if there lacks this time interval of disinfection, then that is an automatic red flag.
Visit the salon early in the morning and be among the first clients, if not the first. It is at this time that nail instruments are at their cleanest.
The salon's placement of instruments and other paraphernalia used in the pedicure should provide a proper arrangement, not randomly placed. This helps to avoid rusting and infections poling on them.
Quality of Pedicure
The quality of pedicure is quite essential because the ultimate goal of a client is satisfactory results.
This comes with the procedure that the nail technician religiously adheres to. A professional nail technician might need to go through the following spets to achieve a fulfilling outcome.
Remove old pedicure first- one can't do new nail polish on old polish because it will look ugly and unprofessional.
Ensure to moisturize the bubble bath.
Keenly apply foot scrub.
Carefully remove dead skin from the foot, scrubbing up to the calf.
Shape the nails.
With care, push back the cuticles
Moisturize the nails and the foot.
Apply a base coat.
Choose a color according to the client's preference and taste.
Complete with an overcoat.
Ask if he knows how to get rid of corns.
The quality of products used

Good quality products go in tandem with achieving desired pedicure results by the client. A salon that deals in this, therefore, need to invest in products that will see to these. The products and supplies required for this are readily available to get.
They are necessary and straightforward to attain. The following are products to achieve excellent and healthy pedicure.
Toe ropes- these keep nails separate to avoid smudging of polish.
Cotton towels-these are daily used for hygiene purposes and to ensure that neatness is observed.
Nail buffer-Nail buffers are used in nail smoothening before polishing.
Cuticle ail pusher-they keep cuticles that could be annoying back and under control.
Lotion-Used to soften the foot for massage as well as the skin.
Nail file-nail files are used to shape nails toes before polishing.
Foot scrubs- used to exfoliate dead skin from foot and the leg. They help to soothe the foot and to make the pedicure experimental.
Cuticle nippers – they are used to achieve a comfortable pedicure.
Callous remover-they come in handy for calloused feet.
Foot files –they keep a client's feet soft and smooth and are often used regularly.