Illustrated Guide Into Fashion Trends 2020 That Will Be Big
Fashion trends come and go, and as we close the decade.
Fashion trends  2020 is a "Tabula Rasa" for designers. They are moving away from streetwear, leaving the '90s nostalgia in the past. Stylists give away old designs to usher in fresh fashion ideas with a touch of sustainability, fluid design, and new forms of utility.
Here we explore 20 fashion trends that you need to be wary about in the year 2020.
Fashion Trends 2020 – Seventies show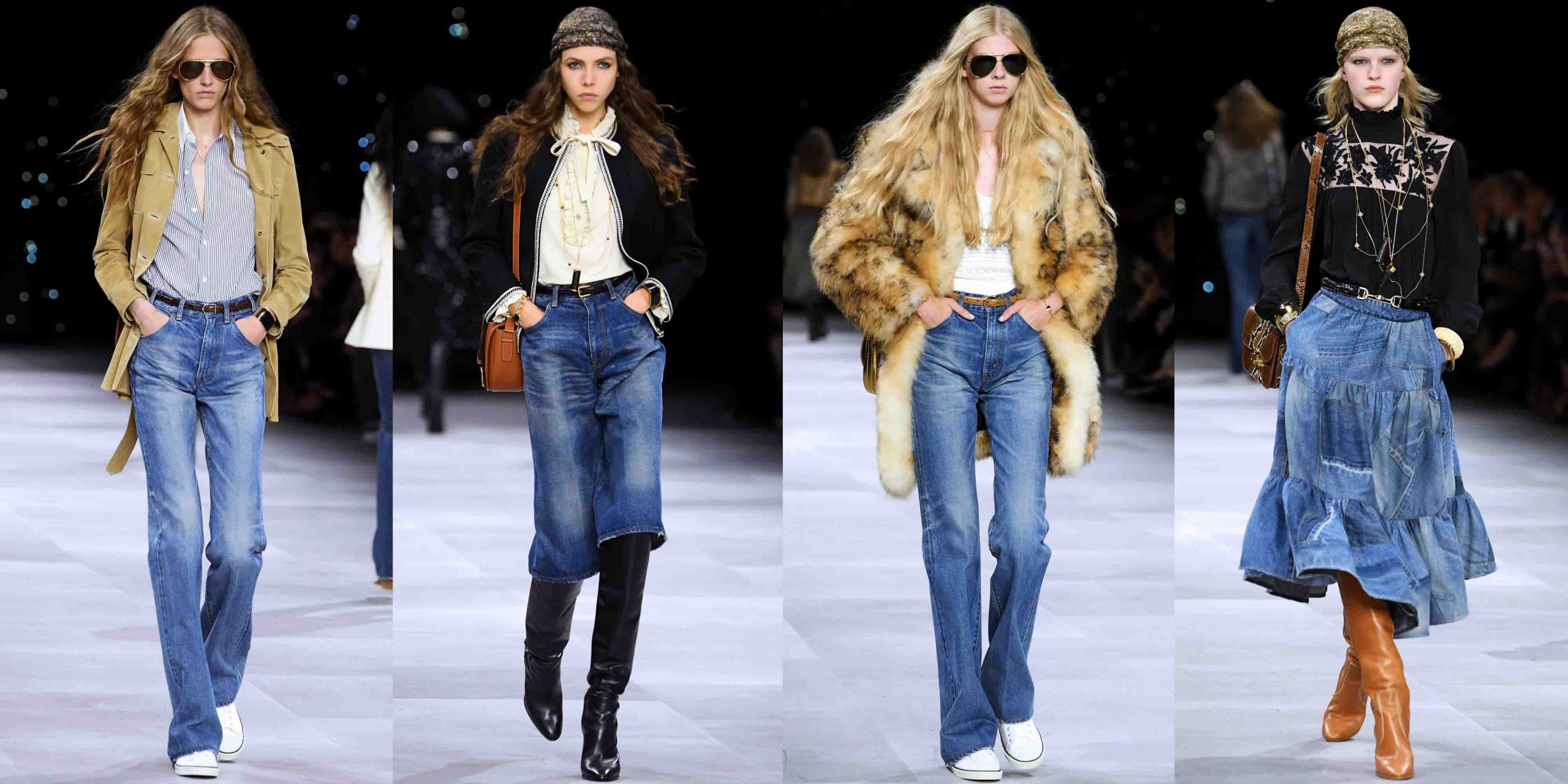 The '70s undeniably serve as the reference point for the many influential design trends expected to dominate 2020 and beyond.
For example, the popular Celine Spring/Summer collection for 2020 gets strong '70s references with bleached flare jeans, embroidered denim shorts, and slim jean jackets.
The Aviator glasses, for instance, are punctuated with '70s glamour. The crochet tops and suede jackets feature an added bohemian touch.
The ready to wear '70s designs inspired the warm colors and retro prints from Fendi and Prada's long line women suits.
Color denim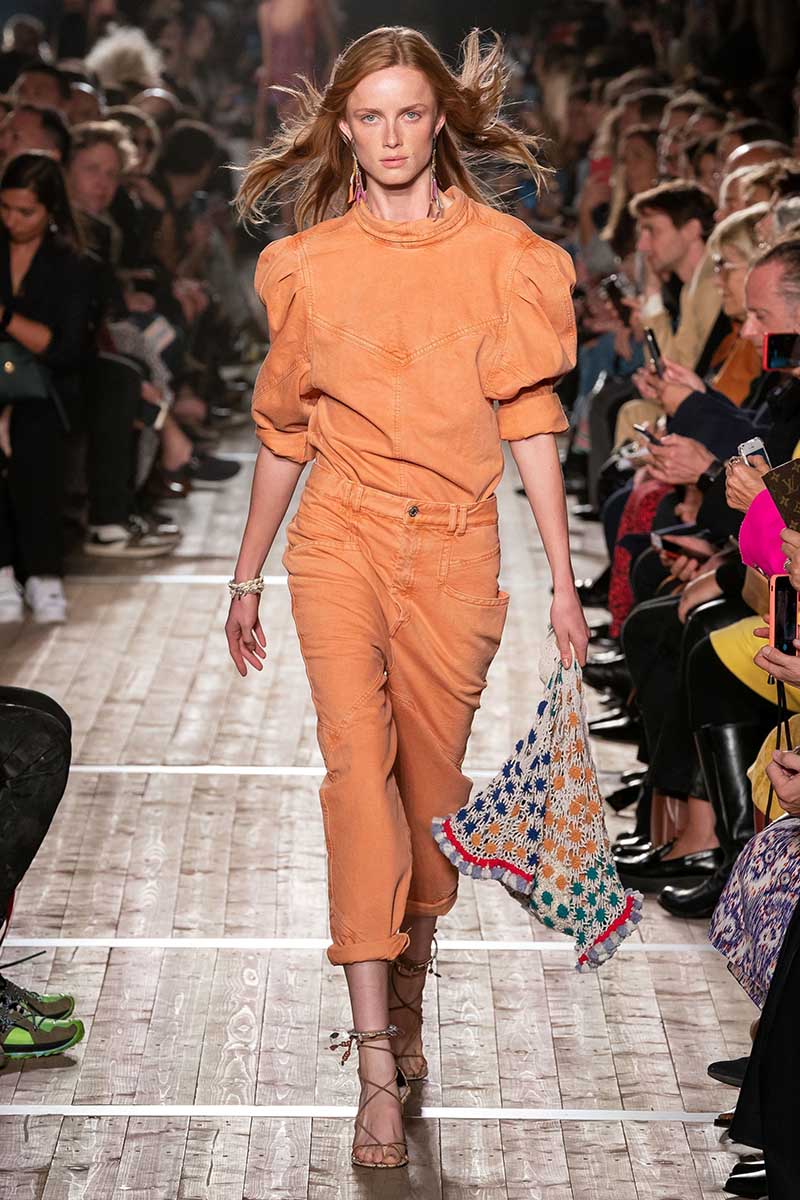 Color has been the most important basis upon which stylists design fashions. Basically, the color approach in design gives the head-to-toe monochromatic looks.
Color injection into the design makes the stylists tell a story to the society.
For example, Isabel Marant used orange color denim to tell her festival-friendly story through matching jeans and puffed sleeved blouse and green denim cut-off shorts matched with jean jackets.
While Chanel told Parisian told his story through red jeans, Alberta Ferretti blended the red and orange in her overalls, jeans, and hobo bags.
Platform shoes
The history of fashion tends to repeat itself. The '70s inspired pants are bound to reappear in 2020. The disappearance of the stacked shoe in 2010 ushered in the block heels and sneakers.
Moreover, we expect to see more square-toe loafers, tall boots, and open-toe sandals receiving the platform heel treatment.
Upcycled denim
The upcycled denim is certainly bound to dominate fashion trends 2020, inspired by values such as sustainability and creativity.
With Upcycled denim, designers can easily introduce their sustainable fabrics into their collections. For instance, the London Vin + Omi designer repurposed Levi's jeans as dresses and inside-out jeans decorated with sustainability messages.
This means that more and more brands will revisit their archives to repurpose and restyle their previous designs.
Safari utility
Designers are likely to regard jackets and cargo pants highly in 2020. The Yves Saint Laurent safari jacket, '70s glamour, dominated the S/S 20 collections in the '70s. Designers are unlikely to give up on the old safari design perks. Therefore you will likely see safari evolve with caftan gowns, satin cargo trousers, and bucket hats.
Environmental fashion
Currently, the world is taking environmental conservation so seriously. Design brands are urged to join the global effort through initiatives that reduce their footprint.
Designer fashion weeks, for instance, offer a good platform to address environmental concerns.
We are meant to witness more activism happening around fashion hubs, and designers are likely to join the movement through their special collections, statement tees, and sustainability goals.
Bra tops
One of the most remarkable fashion trends is that of story Katie Holmes' breakup with Jamie Fox in 2019, as a result of posing publicly in a cashmere bra top by Khaite. The trend gained much traction later, and we can only expect to see more lingerie-inspired tops compliment the last year's midi skirt.
Big bags
The shutdown of 3.3 inches tall Le Chiquito handle bag is expected to give way to an oversized bags such as the $98 PVC tote over 3'' wide.
Therefore, 2020 will be dominated by larger bags as opposed to previous fashion periods.
Orange
Green and yellow have had their moment, and most likely, orange positions itself as a key color trend for 2020.
The citrus hue gives a bold look for men's and women's fashion commonly seen in high shine leather (Annakiki), satin (Marni), and romantic ruffles.
The orange color seems to refocus design on burnt and terracotta hues in the fall.
Shorts
Stylists are refocusing shorts in fashion trends 2020 to pick more of a ready-to-wear and evening fashion from its causal and sporty roots. For S/S 20, shorts have been guarded with tweed, leather, and sequins materials.
Short suits such as Bottega Veneta summer suits are also gaining prominence.
Ecru
Lack of color is another trend expected to hit 2020 hence the ecru denim. Beige, off-white, and ecru denim has been the greatest fashion sign for workwear and genderless garments, yet the au naturel color trend is gaining traction for sustainability in 2020.
Satin
Satin is a clear sign that fashion is parting with streetwear in favor of more glamorous men's wear, such as pleated satin trousers.
Resultantly, the high color fashion will definitely intensify the hues.
Front yoke
Today's lady jeans with front yoke details offer women a new way to wear high-waisted jeans.
Also, Mavi is getting into the trend for S/S 20 while And Pull & Bear is already offering its holiday denim collection.
This trend is about to be witnessed in shorts and denim mini-skirts, especially in summer.
Camp shirts
The desire to explore new places is well catered for in fashion, especially for the travel-obsessed millennials. That's why camp shirts will live long.
There are going to be safari prints and tropical motifs embedded with psychedelic patterns.
Designers will increasingly design more relaxed outfits for travel lovers.
Transparency
Another remarkable fashion trend in 2020 is transparency. We are used to women's wear, such as sleeved blouses and ethereal dresses, but the trend gives rise to transparent men's wear.
Such designs will dominate the 2020 Gen Z men. To be part of this trend, be sure to choose the lightweight parkas, button-down camp shirts, and layered tees.
Fringe
2020 is likely to be dominated by fringe designs. The reason being, anytime bohemia becomes fashionable fringe follows. For S/S 20, fringe is feather-light as unraveled ends of macrame, knots threads, and gauze strips of ribbon.
Political fashion
American politics greatly shape the fashion industry. Candidates and their spouses often use their fall/winter runway show on T-shirts to help make a powerful impression for their candidature. If what happened in 2016 is to be given a chance, 2020 is a political t-shirt.
Lavender
Although the Ultra Violet lavender has been bypassed by designers giving way for pale pink and various shades of nude for several seasons, 2020 may bring it up all over again.
Lavender's slow ascent has been spotted in S/S 2020 collections by Ulla Johnson and others. There is a notable awakening of designers' sense of the color.
Signature prints
Remarkable in 2019 was the Jennifer Lopez's surprise march of Versace catwalk, with the revival of the brand's signature Jungle print coming as a close second.
Its eye-popping green and turquoise print indicates that the signature prints are possibly the new logomania.
The likes of Kendall Jenner, Rita Ora, and Beyonce wearing the print head-to-toe top, leggings, gloves, and sock boots mean that signature prints are the fashion for the closure of the decade.
Leather
It's funny to have spring leather, but Coach 1941 brand, including others, are redefining the leather fashion.
In fact, such brands are expected to surprise the fashion industry with leather tank dresses, bandeaus, and versatile trench coats. Usage of color such as yellow, orange, teal, and gray will amazingly lighten leather looks.
Check some popular things in the 1920s.